salam


tu in topic ye barname gozashtam k flooder nist ama niyaze

ye barnamei mesle shayan add bomber ya

shayan room flooder ro bartaraf mikone

khob miresim be tozihate barname :
ba in barname mitunid id series ro be surate khati dar biyarid
masalan:
nimbuzz88_1*
nimbuzz88_2*
nimbuzz88_3*
nimbuzz88_4*
nimbuzz88_5*
.
.
.
nimbuzz88_300*
albate tedade idha delkhahe masalan mitunid az 20 ta 45
id series ro be surate khati dar biyarid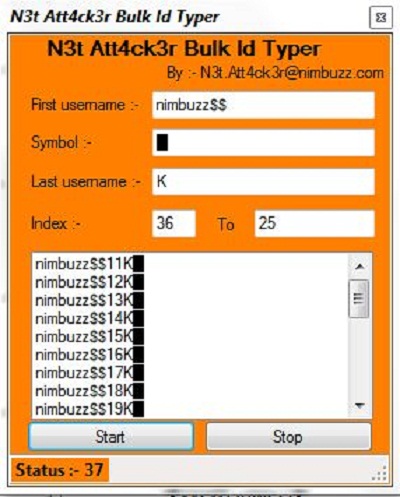 masalan dar axe bala moshahede mikonid k baraye skhte id series
chegune qesmate aval va dovome id ro tu kadr qarar dadam
dar zemn mitunid baraye idhaye symbol, az symbole morede nazar estefade konid
k faqat dar akhare idha qarar migire
mitunid kadrha ro khali bezarid masalan id series
1reza
2reza
3reza
4reza
5reza
kadre aval khali va kadre symbol ro khali mizarid
fkr konam hata new chatera ham motevageh shodan
[You must be registered and logged in to see this link.]